Do You Have Efficient Production? The Profitability of Your Business Depends on It.
Good supply chain management systems from BASM allow you to share information on orders, schedules and your inventories to lower inventory costs and maintain timely order fulfillment.
To sustain your business and still make a profit, you minimize your investment in materials inventory and you practice some form of Lean Manufacturing. To manage this successfully, you need to carefully coordinate deliveries from your Suppliers to keep your raw materials inventory at bay and coordinate deliveries to your Customers to reduce your finished goods inventory. Each of these can be accomplished with the right food manufacturing ERP system.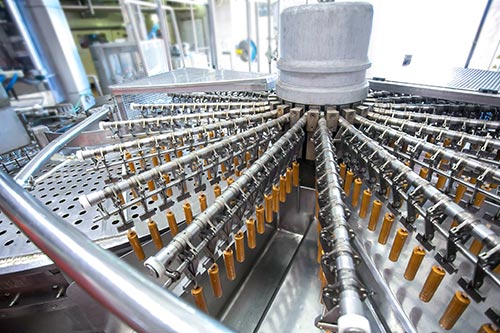 BASM helps your Food Manufacturing business with:
Effective Lot/Food Traceability & Recall – We help you comply with legal regulations and stipulations like the Bioterrorism Act.
Capable Nutritional and Country of Origin Labeling – We help you comply with the Allergen Disclosure.
Active FIFO Management – Stop struggling with managing your inventory levels to supply production, customers and maintain a reasonable shelf life.
Maintain Quality Assurance Standards – We help you guarantee compliance, revision control and temperature controls.
Manage Recordkeeping and Tracking – We help in areas like HACCP so you don't have to deal with serious legal issues.
The profitability of your company depends on efficient production and distribution. Your top priority is to be able to sufficiently increase your yield of high quality products. At BASM we offer you realistic solutions for your business with the right mix of technology and business experience.
---
Read what our clients have to say about BASM,
"BASM also helped us implement a Bill of Materials application for our pizza manufacturing process which back-flushed inventory. This gave us a better handle on our inventory."

Duane Ebert, Controller, Bernatello's Pizza, Inc.
---
BASM has realistic solutions for challenges you face:
Production Control/Inventory – Create, manage, execute and optimize your schedule to reduce change over time and maximize throughput.
Regulatory Compliance – We help you assist the compliance officer to generate varying documents (MSDS, SARA etc.) for inventory items and formulas.
Costing – Manage fluctuation on commodity prices and track theoretical versus actual planned raw material usage by batch or formula.
Material Resource Planning (MRP) – Know what you need to run to satisfy your production schedule and demand and anticipate your demand for raw materials.
Our realistic solutions provide you with the tools it takes to accomplish more with less. Since 1985, we have leveraged our practical industry business experience to help Food Manufacturers just like you capitalize on your unique business strengths so you can transform your manufacturing business to new heights of success.
---
Whitepaper: "How to Choose a Food & Beverage Manufacturing System"
When it comes to Food & Beverage Manufacturing Business Software, it's important to understand all the benefits of an integrated Business System before beginning your selection process. We created this guide—to provide you with the essential information you need to make the best decision possible.
Whitepaper Topics:
How do I get started evaluating Food & Beverage Manufacturing Software options?
How do I choose a Food & Beverage Manufacturing Software consultant & resller?
How do I deploy Food & Beverage Manufacturing Software across my orginization?
Hosted vs. On-Demand vs. On-Premise?
How do I determine my Food & Beverage Manufacturing Software implementation budget?
---
Our extensive business experience in the industry allows us to extend our capabilities to you so you can ultimately become better, faster and stronger to achieve your business success. With realistic solutions from BASM, you are in a great position to take advantage and move ahead of your competitors.