Advanced Treasury and Cash Management for Microsoft Dynamics NAV…
Business management software from Microsoft Dynamics NAV provides a great standard core financial management module. However, for those who have a greater need for high-level investment, reporting and treasury management functionality to satisfy complex tax, or government requirements; applications designed by Elysys are the answer.
Created using the same core technology platform as Microsoft Dynamics NAV, Elysys NAVCash and NAVInvest applications seamlessly integrate with your NAV ERP software, assuring a smooth transition and a low total cost of ownership.
---
Benefits of Elysys products: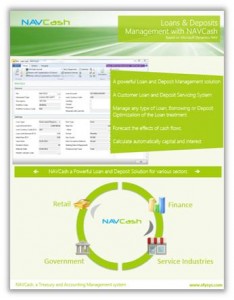 NAVCash
Maximizes the efficiency of lending, borrowing and deposit operations, as well as improves accuracy, and minimizes the workload in front and back offices.
Provides an intuitive and flexible front end interface, enabling the modification of terms, early repayment, postponement of settlement and more.
Allows deposits to be linked to the core NAV ERP bank module so that liquidity can be previewed prior to validation.
Customizable accounting rules.
Learn more about loans and deposits management with NAVCash.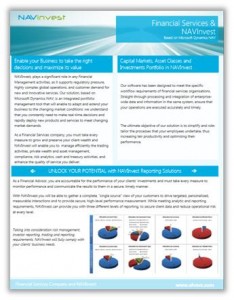 ---
If you'd like more information the advanced cash management capabilities of Elysys products, contact us today. We can help you determine if these applications are right for your organization, as well as provide ongoing support for the life of your business. We help you increase growth by becoming better, faster and stronger through a successful combination of remarkably improved management controls, cash flow and profitability.
Learn how Elysys NAVCash and NAVInvest provided EUROFIN Services SA with a global answer for their investment and cash management needs.
If you are not yet using Microsoft Dynamics NAV, but are interested in implementing an integrated ERP system and advanced treasury and cash management application…
---
Try Microsoft Dynamics NAV ERP for Yourself
By using a Microsoft Dynamics NAV business management system and Elysys for your business, you empower your people, generate optimal value, drive productivity and improve decision-making.
In the volatile world of business, individual effectiveness both have a direct impact on your bottom line. Give your people familiar, easy-to-use tools to enable them to help you increase organization-wide business productivity.
If you would like a deep dive into Microsoft Dynamics NAV, save some time and contact usfor a free, no-obligation introduction to solving your business needs.