Part 3 of our Effective Ways to Reduce Manufacturing Costs article series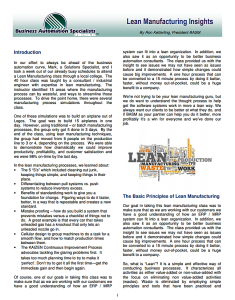 Adopting lean manufacturing principles can reduce manufacturing costs by increasing labor productivity, cutting production throughput times, reducing inventories, and cutting errors and scrap by as much as half. The core principle of lean production is to do more with less, and the first place to focus on is eliminating waste.
Waste is defined as any activity that does not add value from the customer's perspective. According to research conducted by the Lean Enterprise Research Centre (LERC), 60% of production activities in a typical manufacturing operation are waste – they add no value at all for the customer. The good news is that just about every company has an opportunity to cut manufacturing costs using lean manufacturing techniques and other best practices.
There are 25 "lean" tools designed to help eliminate waste, improve your manufacturing operations, and thereby reduce manufacturing costs.  A great place to start implementing lean production is by understanding the forms of waste (waiting, transportation, inventory, motion, over-production, over-processing, defects, and wasting talent) and how to eliminate them.  Download our article on Lean Manufacturing Insights which covers the principles of using lean production to reduce manufacturing costs, provides more detail on the forms of waste and information on several of the lean tools.