The Business Automation Specialists' Difference
"Realistic Solutions – The Right Mix of Technology and Business Experience".
Our goal is to know and understand your business objectives, critical needs, personnel capability,  and goals. Software is simply a tool we use to help you reach your goals.
We believe your computers, ERP, accounting, and automation system should be an extension of and enhance your business. Having the right tools and knowing how to use them will help you leverage your resources and reach your objectives.
With this understanding, we enable you to align your operations and strategies with a fully integrated business solution. This alignment heightens your competitive advantage in your market; strengthens your niche position; improves your core value presentation to your customers; and eliminates business bottlenecks to meet your customers' requirements.
Equally important is our understanding of value, waste, and the end-product in your business proposition to your customers. We know how to get automation out of your way so that you can do the business of your business-serving your customers. Your customers buy from you because you solve their problems.
We will help you meet their needs more effectively and efficiently while providing superior service AND met your goals.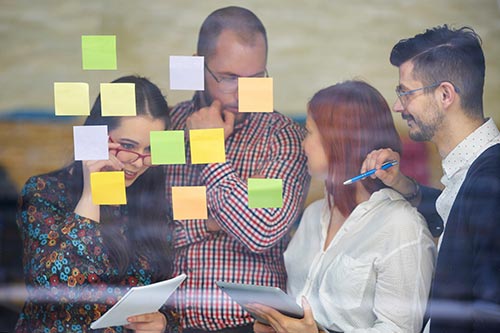 What We Do
With over 150 years combined business technology experience, our core competency is the ability to identify business automation problems and provide realistic solutions. How? By developing new business processes and implementing integrated systems.
We focus the creative energies of business and personnel on the critical issues necessary for success by identifying time, information, and communication loss. Our methodology utilizes creative problem solving to structure and refine processes for optimum performance.
With our solid commitment to quality and personal excellence, we will meet the needs of your new, growing, or established business.
Meet the Team – Our most valuable asset
Our team of experienced professionals has extensive industry experience, sharply focused educational backgrounds and the solution expertise necessary to assist you with your automation tools.
The team  includes, accountants; programmers; network, hardware and software support specialists and business advisors.
Our Team:
Ron Ketterling, President
Sharon Ketterling, General Manager
Ryan Ketterling, Director of Business Development
Melissa Reichenbacher, Director of Engagement and Services
Julie Buckhaus, Project Coordinator
Fran Bistodeau, Implementation Consultant
Temah Yersiha, Implementation Consultant
Dan Eckhoff, Developer
Nha Nguyen, Developer
David Camacho, Developer
Jennifer Jones, Accounting & Administrative Assistant

Testimony from our client: Terrybear Urns and Memorials

"The implementation and data conversion process went better than we expected. In fact, the day of the conversion we were invoicing and shipping. Business was not interrupted in any way, and there was little to no impact from the customer side. Within two weeks of implementation we were back up to speed to where we were with the prior system. Training by BASM was a key factor to the implementation success and having their team onsite those first few days really made a difference."