Discover What You Need to Do Now to Effectively Manage your Container Shipments.
You must communicate product status to all your audiences, Customer Service, Finance, Manufacturing and Warehousing.
When it comes to Container Receiving, your imported products typically have longer lead times because they must clear customs on both ends of a long slow trip on the water, in addition to the manufacturing lead-time. Many times your container will have products from multiple purchase orders. Generally, not all lines from a purchase order will be in the container.
You face several challenges. Your Customer Service reps want to know the status of the order and an expected delivery time to tell the customer. You can keep this information in a spreadsheet, and give them many printed reports, but the information is never up-to-date and takes a lot of effort to maintain.
We can help you track and publish this information seamlessly in the normal course of your job duties. Finance and/or Manufacturing all need to know the status of the product in the container. Additionally, if you have Lot Traceability issues, you own the product from the time it is put in the container. This means that Lot traceability begins before the product is in your hands and you must maintain the audit trail from this point forward.
---
With Container Receiving, you need to provide the answers to a number of questions:
Has my container left yet?

When is my container due to ship?

Is my container on the water?

Is my container in customs on the other side of the water?

Is my container in customs within the USA?

Is my container being held for additional testing?

Is my container on the truck or rail to its destination?

When is my container due to arrive?

When will my container paperwork arrive?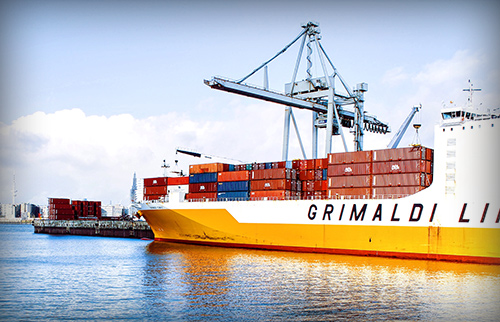 With an integration from BASM you'll always have these answers at your fingertips.
ERP systems from BASM segregate items by Purchase Orders. We provide a container view so you can view and edit the status and arrival dates of your container. We can also provide a Purchase Order view where you can see the specific details for each item on the Purchase Order.
Receiving Containers is another challenge when the product is from multiple Purchase Orders. We help resolve this through WMS (Warehouse Management Systems) or other advanced receiving processes.
---
Whitepaper: "How to Choose a Distribution System"
When it comes to Distribution Enterprise Resource Planning (ERP), it's important to understand all the benefits of an integrated ERP system before beginning your selection process. We created this guide—to provide you with the essential information you need to make the best decision possible.
Whitepaper Topics:
How do I get started evaluation Distribution ERP options?
How do I choose a Distribution ERP consultant & resller?
How do I deploy a Distribution ERP across my orginization?
Hosted vs. On-Demand vs. On-Premise?
How do I determine my ERP implementation budg
---
We give you practical advice for your business. We built our business by helping clients, like you, build theirs. We help your business become better, faster and stronger so you can focus on achieving your success.