When it comes to Contract Manufacturing, we can help whether you are the being hired or doing the hiring.
As companies become increasingly specialized, more contract manufacturing is taking place. In this scenario, one company "hires" another to perform one or more processes to complete a product.  In some cases, the whole product is contracted to another firm.  The inventory may come directly from the customer's supplier to the "hired" and may go on to another when the work is completed. Billing is generally done by the piece or the hour.
This business practice involves at least two firms, the hiring firm and the hired firm; and is a broad term that can fit almost any style of manufacturing from Make-to-Stock to Process Manufacturing.  We can help whether you are the hiring or the hired firm.
---
BASM understands your unique challenges:
The Hiring Firm
You have chosen to outsource a portion of the manufacturing of your product because it is highly specialized, less expensive or overflow work that you cannot handle.  We help you track both the work and your inventory as you authorize it, in production and as it comes back in-house. As the Hiring firm, your product may make several intermediate stops at different contract manufacturers before coming back in-house.  We help you track quantities at each location and the change in cost as the product goes through each manufacturing step.  You may own all or none of the components that make up the final product.
The Hired Firm
You must track the incoming Hiring firms' specifications and revisions as well as incoming orders, forecasts and products.  Sometimes you use your own inventory or just the Hiring firm's inventory.  We can help make certain your employees use the right specifications, revision and materials in your manufacturing process.We can help you track your labor, machine and inventory costs to help you make sure you maintain the profitability you built into your quote.  We can help you track the change orders that can cut into your profitability.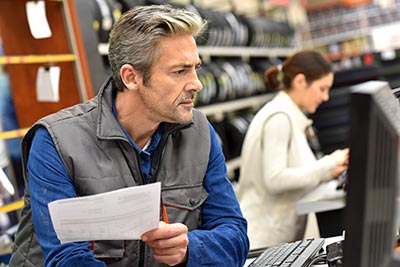 We help you track these critical items:
Communication of orders
Forecasts
Product Specifications
Revisions to the Hired firm
Labor
Inventory
Costs
And more
Lot and Serial number tracking are critical in some manufacturing processes.  We help you track these numbers.  We track inventory added to the finished goods and the labor and machine time to make the product to ensure all your costs are captured and billed appropriately.
---
Read what our clients have to say about BASM
"COVID really emphasized the value of having access to the electronic files and not having to physically handle invoices. We are now pretty much able to process invoices remotely after they are scanned."

Jay Lyons, Finance Manager, Mississippi Market Natural Foods Co-op
---
Whitepaper: "How to Choose a Manufacturing System"
When it comes to Manufacturing Enterprise Resource Planning (ERP), it's important to understand all the benefits of an integrated ERP system before beginning your selection process. We created this guide—to provide you with the essential information you need to make the best decision possible.
Whitepaper Topics:
How do I get started evaluation Manufacturing ERP options?
How do I choose a Manufacturing ERP consultant & resller?
How do I deploy a Manufacturing ERP across my orginization?
Hosted vs. On-Demand vs. On-Premise?
How do I determine my ERP implementation budget?
---
With help and realistic solutions from BASM you get the right mix of technology and practical business experience whether you are a Hiring firm or a Hired firm. Since 1985, we have been leveraging practical business experience with software and technology to help your firm maximize your unique business strengths. Contact Us TODAY so we can help you become better, faster and stronger and reach new levels of profitability.