Download this Complimentary Whitepaper:
ERP Project Success – How to Choose an ERP System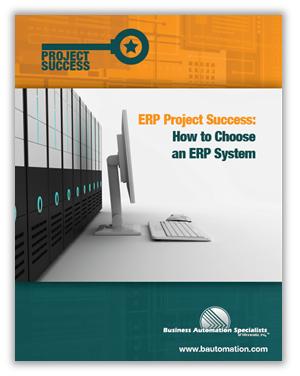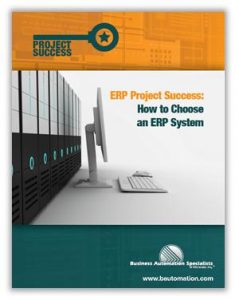 ERP System implementations can be quite complex, and if your company is thinking of making a change – it is critical to the success of your project – that you approach change with as much information as possible.
Statistics show that as little as 32% of company management teams rate their software projects as successful. We do not want you to fall into the 68% who experience a software implementation failure. For this reason Business Automation Specialists of Minnesota has developed three helpful guides to assist you every step of the way.
In our first whitepaper, we discussed the critical importance of pre-planning, and the specific steps you should take to drastically increase the likelihood of a successful outcome for your project.
In this, our second whitepaper – we cover the best steps to take when identifying the right software application to meet your company's unique requirements. Some of the helpful information you'll find in this guide includes:
The best way to approach the software selection process.
The truth about Requests for Proposal (RFPs), site visits and demonstrations.
Keys to selecting the right Value Added Reseller (or VAR).
Information you need to ensure you select the right product.
Up front and hidden costs to prepare for ahead of time.
And more!
Simply fill out the short form below to receive this informative whitepaper directly to your email in-box!
You may also be interested in viewing our next guide in this series, How to Implement an ERP System.