Download this Complimentary Whitepaper:
Project Success – How to Implement an ERP System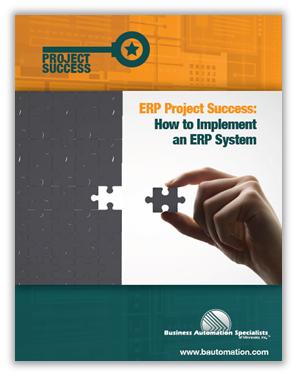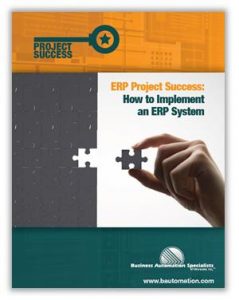 ERP system implementations can be quite complex, and if your company is thinking of making a change – it is critical to the success of your project – that you approach change with as much information as possible.
With as little as as 32% of company management teams rating their software projects as successful, BASM offers the resources you need to achieve project success!
And in this, our third whitepaper in a 3-part series guiding you through the process – we offer information gathered from our many years of expertise, to help you successfully implement a new software application. Download this guide to get more information regarding:
How to adequately prepare for implementation, coordinate relationships, and create the best plan for success.
Information to help you with testing and data conversion.
Easy to read job descriptions and estimated time allocation for people and their specific roles including: the executive sponsor; internal project manager; pilot testers; subject matter experts; and end users.
System configuration, process documentation, and testing.
Conversion checklists.
And more!
Simply fill out the short form below to receive this informative whitepaper directly to your email in-box!
If you have not yet read our first two whitepapers, we would strongly suggest you do so before attempting any sort of implementation.
In our first whitepaper, we discussed the critical importance of pre-planning, and the specific steps you should take to drastically increase the likelihood of a successful outcome for your project.
In our second whitepaper, we gave you the tools you need to ensure you choose the right business management software system for your company.